KCleaner Update
Kilho Oh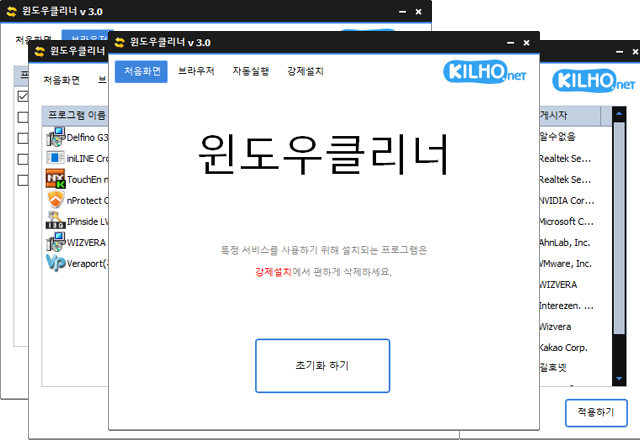 KCleaner(3.5.0.0) 를 업데이트 하였습니다.
은행 접속시 강제로 설치해야 하는 보안(?) 프로그램들을 손쉽게 제거할 수 있습니다.
The malicious program created with the same filename as the Windows default processor also exits cleanly.
Essential drivers (graphics, sound) do not exit.
(Shutting down the driver can degrade performance.)
Trusted vaccines do not shut down.
You can easily stop slowing your explorer (such as a toolbar).
It can be used without installation.
history
KCleaner 3.5 -2023/06/15
- 프로세스 처리 코어 모듈 변경

KCleaner 3.4 - 2023/06/14
-An addition of installed versions (tray icon function)
-Bug modification and stability improvement

KCLEANER 3.2 -2019/02/20
- 예외 처리 관련 수정

KCLEANER 3.0 -2017/08/12
- 전체 엔진 수정, 브라우저 플러그인, 시작프로그램 관리

KCleaner 2.3a - 2017/07/21
- 디스플레이 스케일링시 화면 깨짐현상 수정

Download
Related links
license
Kcleaner is freeWare. It doesn't matter if you use it without any space restrictions on your company, home, government office, and school.