Click Auto Update
Kilho Oh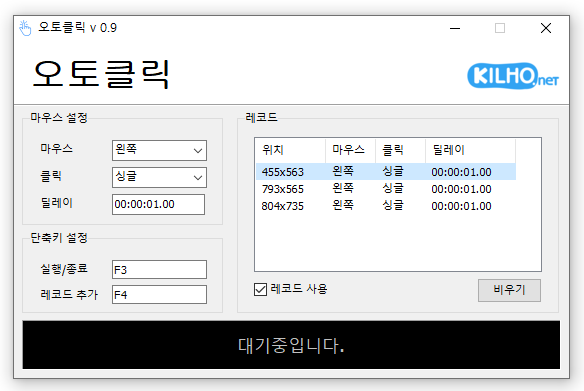 Updated to Auto Click (1.3.0.0).
Mouse automatically clicks the program.
Available in several patterns to add a time coordinate.
You can specify the details of the click.
It can be used without installation.
history
Auto Click 1.3-2023/09/20
-Modification related to mouse location

Auto Click 1.2-2023/08/19
- 업데이트 확인 모듈 수정

Auto Click 1.1 -2023/04/13
-An addition of record storage, deletion function

Auto Click 1.0-2022/09/06
-Bug modification and stability improvement

Auto Click 0.91-2020/08/12
-An addition of multilingual modules, internal stabilization

Download
Related links
license
Auto click is freeWare. It doesn't matter if you use it without any space restrictions on your company, home, government offices, and schools.