Kalmuri Update
Kilho Oh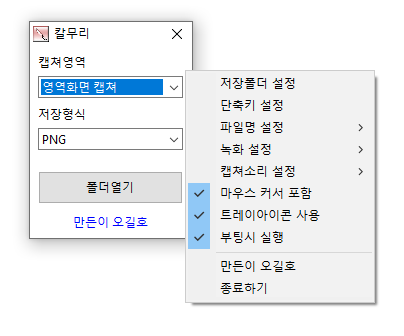 Kalmuri(3.6.1.0) 로 업데이트 하였습니다.
Video recording support (full screen, specified area)
Specify the full screen, the active program, Windows Control, Area Support
PNG, JPG, BMP, GIF, MP4 File Format Support

When uploaded to capture capabilities ImageBox

Printer output function for capture

Capture Full Web Page
Various shortcut keys settings
Color extraction function
It can be used without installation.
history
KALMURI 3.6.1.0 -2023/07/18
-Basic setting if the area designation is different from the resolution

Kalmuri 3.6.0.0 - 2023/06/28
- WEBP 포맷 지원
-Bug modification and stability improvement

KALMURI 3.5.2.0 -2023/06/21
-In addition to the file name (date time)

Kalmuri 3.5.0.0 - 2023/06/17
- 캡쳐 중 에러발생시 오류 메세지 출력

KALMURI 3.4.0.0 -2022/08/01
-If there is no folder specification, the default setting to the desktop
-Fixed sound with sound when recording
-An addition of installed versions

Download
Related links
license
Kalmuri is freeWare. It doesn't matter if you use it without any space restrictions on your company, home, government offices, and schools.