Incognito DNS updates
Kilho Oh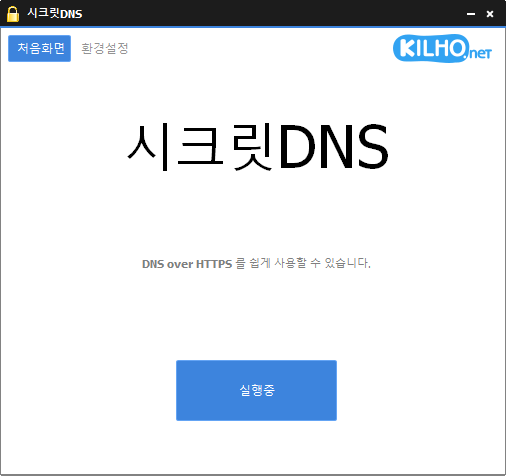 Updated to Secret DNS (3.2.0.0).
추천옵션Using you can use exceptions to only the necessary sites and use it comfortably.
It includes the ability to prevent DNS modulation (DNS over https).
It includes the function of bypassing SNI interception (http/https).
SNI character heat is only fragmentation to minimize speed decrease.
Only the specified domain can perform SNI fragmentation and DNS.
DNS server is specified without changing Windows settings.
Minimize access disorders through white list.
접속한 도메인을 손쉽게 확인할 수 있습니다.
Used in a mix of proxy functions.
It can be used without installation.
추천옵션
DNS 설정 – 암호화(DOH)
SNI 설정 – 파편화(직접지정)
지정 목록 – bypass할 도메인을 입력
history
Secret DNS 3.2.0.0 -2023/08/30
- TCP Filter 수정

Secret DNS 3.1.0.0 - 2023/08/20
- 전원이 배터리인 경우 실행 안되는 문제점 수정
- 트레이 아이콘 모양 변경
-Dnscrypt-Proxy reuse

Secret DNS 3.0.0.0 -2023/08/04
- 예외 목록을 통한 DNS 기능 작동
- 자체 로컬 DNS 경유 서버(DNS over HTTPS)
- DNSCrypt-proxy 제거

Secret DNS 2.9.2.0 - 2023/06/21
-Bug modification and stability improvement

Secret DNS 2.8.8.0 -2023/04/28
-Run/stop when clicking the tray icon
-Mixed proxyberg modification

Download
Related links
license
Secret DNS is freeWare. It doesn't matter if you use it without any space restrictions on your company, home, government offices, and schools.